-
Type
Concept Design
Location
Städtische Bühnen Frankfurt/M, Germany -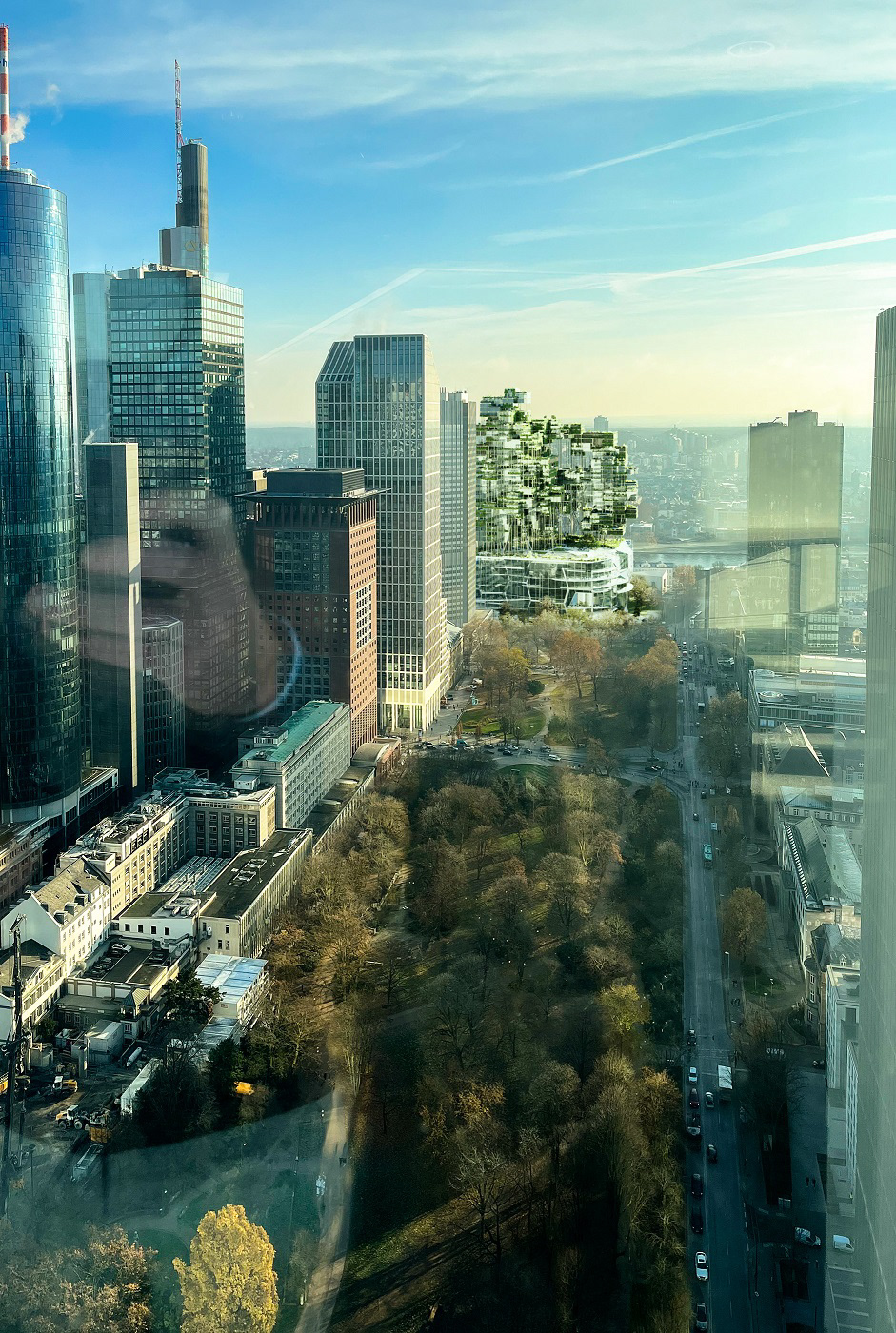 "Deus Ex Urbanus" conveys the transformative power of innovative urban design and architecture. This Latin term could be translated and interpreted as "The Divine Emergence from the City," signifying the birth of an extraordinary urban vision that seeks to redefine urban living. It symbolizes the intersection of architectural creativity and urban life, promising a new era of dynamic, inclusive, and vibrant city experiences.
"Deus ex Urbanus: A bold architectural design reinvents urban life in Frankfurt"
Currently, the Frankfurt City Administration is contemplating the construction of a new building for the "Städtischen-Bühnen" or "Municipal Stages," which is the largest municipal theatre operation in Germany. The present building, which is in a state of disrepair, primarily consists of a combination of an opera and theatre house, supplement

ed by additional stages.
"Deus ex Urbanus" is boldly venturing to develop new ideas and perspectives on this issue.
In the bustling downtown area of Frankfurt, an architectural transformation promises to reshape urban life as we know it. Deus ex Urbanus, the new heart of
the city, redefines the boundaries b
etween architecture, culture, and community, promising to make Frankfurt's city center a place of urban living and experience.
Combining elements of theater, opera, workshops, administration, housing, further education, and flexible open spaces, Deus ex Urbanus brings a remarkably diverse and ambitious program to its hybrid building. The structure serves as a catalyst for city life, inviting Frankfurt's residents and visitors to linger, exchange ideas, and learn. Here, architecture is understood as a setup that offers visitors the opportunity to experience urbanity with joy.
​​​​​​​
One of the most impressive aspects of this innovative design is the three-dimensional 'Architecture Promenade,' which democratizes the traditional foyer and is accessible to visitors around the clock. This promenade cuts through the building, offering ever-changing views and perspectives, serving as an extension of the city itself. The 'Architecture Promenade' is generally attributed to public, urban space. However, it is subdivided into different public zoning so that, for example, the theater foyer is only accessible to theater-goers during event times.
The promenade is lined with restaurants, bars, and cafes, inviting city dwellers and visitors to linger and provide a culinary meeting point. It also offers window-like insights into the venues, allowing passers-by to catch a glimpse of the city's cultural work during playtimes or rehearsals. In combination with digital speakers that transmit the sound from the inside to the outside, this insight provides a direct connection to the performing arts.
In addition to the already mentioned elements, the promenade also has a 'Forum of Encounter,' providing a space for performance, debates, societal exchange, and human encounters. A 'Makerspace' showcases current production methods and allows visitors to become creative themselves. Exhibition spaces provide room for the presentation of artistic works, urban construction projects, or ideas of regional start-ups. Even sports activities are considered, with rooms that can be reserved for Zumba, gymnastics, yoga, and other activities.
Co-working spaces are another facet of this ambitious project. Given the increasing number of freelancers and people wanting to work from anywhere, they represent an important resource. These individuals need a platform for their work. By designing these spaces, Deus ex Urbanus encourages exchange and collaboration among users.
Another remarkable aspect of the design is the elevated park, providing a safe oasis 44 meters above the city wall amid the lively city of Frankfurt. Located at the highest point of the Architecture Promenade, this park offers a spectacular view and is considered a significant enhancement to the residents' quality of life.
A colossus of living space towers over the green heart of the park, offering Frankfurt the much-needed breathing space in its tormenting housing shortage. The lack of housing reaches a mid-five-figure number, sparking an urgent need for creative solutions in housing design. The urban stages, lying like an urban mosaic in the heart of the city, currently have an excess of commercial spaces overshadowing the residential areas. However, a transformative vision indicates a turnaround in space distribution.
The ingenious layout of the apartments reveals remarkable flexibility. They can be configured individually from a cozy studio apartment to an opulent 8-room dream home, depending on the residents' needs. This usage-oriented architecture optimizes living space in an intelligent and efficient way, with a keen eye for space utilization.
The concept includes garden-like open spaces that weave through all floors like a green thread, serving as communal meeting points for the residents. This approach promotes a sense of community and provides space for relaxation and social interaction.​​​​​​​

To prevent vacancies and ensure optimal use of the apartments, it is recommended that the city of Frankfurt act as the main owner. This would allow a needs-based rental of the apartments and improve the living quality in the vibrant city.
Overall, Deus ex Urbanus represents a new vision of urban development. It aims to create a diverse, vibrant, and inclusive urban cultural landscape that contributes to making Frankfurt even more livable and inviting. By connecting space, culture, and community in a three-dimensional, walkable landscape, it invites people to experience a lively and vibrant urban life. With Deus ex Urbanus, a new era of urban development begins in Frankfurt that puts people at the center.